Ahhh the beloved State of Oregon which has gained notoriety in recent years for the fact there's thousands of children who've gone missing within this one state and our governments refusal to assign federal law enforcement agencies to solve the case. Now a smaller but equally disturbing story has flown under the radar on a national level, therefore, the time is long overdue someone re-ignites this injustice and delivers it to the ears of the American populace. That someone is the Verity Outlet.
A baker had refused to bake a cake for a gay wedding because of his Christian belief system; an anti-LBGT belief system that most people have not merely Christians. Anyhow, the war candles had now been lit.

Unbelievably, a gay couple drove 120 mi. passing 67 secular owned bakeries to arrive at the known Christian owned bakery. Upon arrival they presented a Law Suit and a News Crew demanding a wedding cake be baked for their upcoming homosexual wedding!
Imagine the hatred and vengeance that boils inside some people who'll attack anyone with disparate belief systems their their own, that this couple would take this much of their time and effort to attack someone with strong moral beliefs; beliefs that existed since the dawn of time until recent media trends have turned the tide in an attempt to demoralize our nation. Yes, not because the owners of these media outlets share the same LBGT beliefs, because they clearly don't; no, they believe creating such a populace within our nation will destroy our people as a collective and capable society.
Perhaps, the baker should demand a large crucifix to be displayed at the wedding or protest couples who get married outside of churches..? The slogan, "It's Not About the Cake" hits the nail right on its head - not in support of the LBGT community but for rights of Christian to maintain their beliefs and not be forced to believe in elements of life that other people believe in. Having gay people force their beliefs on others is the same thing if a Christian forces their beliefs on them!!!! How can people not see this simple aspect of this ridiculous debate⁉

Anyone, whether American or not, the simple fact they're a human being: has the right not to support someone else and/or another group of people if they so choose so. I can be a Boston Bruins fan while i dislike the Montreal Canadians. Just because someone supplies a public service like a bakery doesn't change this fact. This is why the gay couple has the right to go to another bakery and not be forced into only purchasing services from this particular bakery in Oregon. Human Rights are Human Rights for all and I don't think this faction of the LBGT community, meaning this original couple and the protestors outside the Supreme Court, comprehend what the Rights for All truly means.
📝 Shaun Prario of the Verity Outlet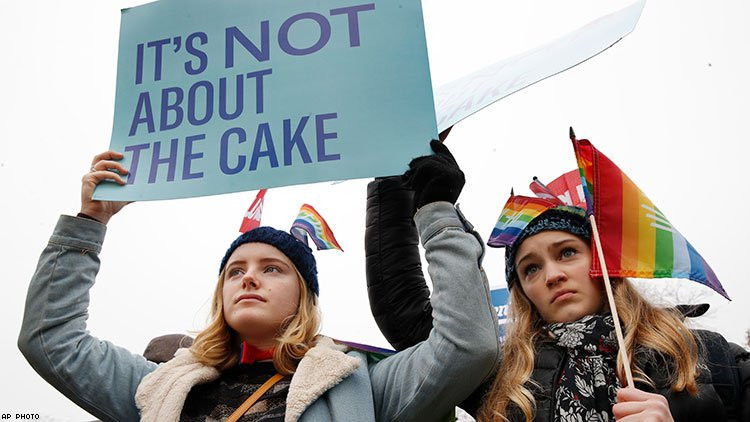 Disagree..? Then leave your counter-argument for a chance to be displayed on the Verity Outlet Homepage. Verity is open to intelligent debates and would love for someone in support of the LBGT community to prove their argument.