Dragon = Dinosaur - Co-existence w/Man?
Dinosaur Soft Tissue Found
by: My Internet Finds
Published on Jun 16, 2014
5 Clues Humans Actually Coexisted w/Dinosaurs

by: Beyond Science
Soft Tissue Found Inside a Dinosaur Bone!
by:L Stated Clearly
1 year ago
Did Humans Walk the Earth with Dinosaurs
THE FORBIDDEN ARCHEOLOGIST
Published on Dec 7, 2016
Dinosaur Fossils Aren't 65+ Million Years Old


Recent Finds:
"Bones of an alligator which was as long as a house and as tall as its ceilings have been found on the banks of the Amazon River in South America. Scientists estimate from the alligator's 1.5 metre skull that it was about 2.5 metres tall, and about 12 metres long. Professor Carl Frailey, from Overland Park, Kansas, said the creature probably weighed about 120 tonnes. 'This would make it heavier than Tyrannosaurus rex… the mightiest of dinosaur predators', he said."
The Sunday Mail, Brisbane, November 17, 1991.
"A fossilized femur bone of an ancient giant bird, presumed to exist over one million-years ago, was recently discovered in the Philippines. According to this find this bird would've stood over eleven feet tall and weighed as much as an adult Polar bear."
The Fallen Angels:
These ancient beings may have created the Nephilim through interbreeding or DNA manipulation between themselves and man. The resukt was giants who turned out to be violent Monsters. Afterwards, we're told the Fallen Angels continued with interbreeding experiments between different species. Scientists remain confused where the dinosaurs originated from and there's much controversy how they became extinct; despite the volume of the 'asteroid theory being taught'. The problem with this theory which many scientists acknowledge is other species which currently live on earth that they're positive have existed ever since they lived on earth simultaneously with the dinosaurs; therefore, how did they survive the great meteor strike? This was an elimination of species which someone very powerful was able to control who survived and who didn't.
The conclusion of this examination is that dinosaurs certainly weren't a creation of God. Dinosaurs were a creation of the Fallen Angels; whoever these Fallen Angels truly were.
Origin of the word Dinosaur:
Dinosaur fossils were first observed in the 19th century. In 1842, paleontologist Richard Owen coined the term dinosaur, derived from the Greek deinos, meaning terrible or fearfully great, and sauros, meaning lizard or reptile. Prior to this time, they were simply referred to as Dragons. *see historical references Sir Richard Owen, who created the term dinosaur, was an evolutionist. There were many in the science community at this time who we're trying to disprove what the Bible taught. They wanted to prove Evolution to be true. They found out that many in the scientific community embraced the same goal. Besides, it was a good way to make money. Think of the billions of dollars the dinosaur industry generates today.


Fossil Evidence:
Scientifically, it has been discovered that fossilization doesn't take millions of years to occur. It simply requires the correct conditions. The burial of millions of animals, plants, and marine life is explained quite easily by the worldwide flood recorded in the Book of Genesis and dozens of similar flood stories from numerous cultures worldwide.

Recent Soft Tissue Discovery:
Science magazine in 2005 showed pictures of flexible blood vessels and red blood cells alongside soft and stretchy ligaments from a supposedly 68 million-year-old T.rex bone. The remarkable discoveries by palaeontologist Dr. Mary Schweitzer have rocked the scientific world.
This information wasn't hidden. A matter of fact, it was acknowledged by many evolutionists but the maimstream community has attempted to discredit and hide this new find, because if the rocks and fossils aren't millions of years old…the Evolution Theory is dead!

An article on creation.com even says, "National Geographic's article titled, "Many dino fossils could have soft tissue inside" reveals that the scientific community is expecting many more examples of dinosaur soft tissue in the future. These facts have been a thorn in their side for several years now as they are incredibly difficult to explain within an evolutionary (millions of years) timeframe. Needless to say, they fit beautifully within a biblical (young earth) timescale; these are almost certainly the remains of creatures that were buried during the Genesis Flood, approximately 4,400 years ago."

Mark Armitage is a published scientist of over 30 years and was working at the Hell Creek Formation excavation site located in Montana when he discovered one of the largest Triceratops horns ever unearthed at the site. According to conventional perspectives, the Triceratops is a genus of herbivorous dinosaur that first appeared in the late Cretaceous period, about 68 million years ago in what is now North America, and became extinct around 66 million years ago.
Armitage studied the fossil in the California State University lab using a high-powered miscroscope and was stunned to find soft tissue complete with bone cells. According to Armitage, the preservation of such cells is a scientific impossibility if the dinosaur really walked the Earth over 66 million years ago. On this basis, he felt it was not unreasonable to open discussion with colleagues and students about the implications of such a finding being that the creationist perspective is correct and that dinosaurs existed much later than mainstream science maintains. The results of Armitage's analysis of the soft tissue was eventually published in July 2013 in the journal Acta Histochemica. Noneheless, Armitage was fired from the University of California, which he is now fighting in court.

Many articles similar to the one above can now be found all over the web on sites like nature.com, science.howstuffworks.com, sciencemag.org, theverge.com, apolgeticspress.org, icr.org (Institute for Creation Research), natureworldnews.com, truthnet.org, genesispark.com, and many more. Not all attempt tying the dinosaurs into the Biblical timeline. Most postion the existence of dicosaurs, then called dragons, a few thousand years older. Nevertheless, we have innumeral historic accounts of man coexisting with dragons. (dinosaurs).
Further Sources (Books):
Brian Thomas' Dinosaurs and the Bible
Buddy Davis' Amazing Adventures: I Dig Dinosaurs!
Chronicles of Dinosauria
Dragons: Legends & Lore of Dinosaurs
The quote above from Einstein tells us:
1. With all schoolbooks, encyclopedia, posters, museums, etc. teaching the went extinct
65 million yrs. ago narrative, it wouldn't be financially profitable, quite the contrary,
to correct the old outlined history of the dinosaur.

2. The Evolutionists will never admit their wrong and allow a creationist narrative
involving God to be brought forth among the populace.
This page will prove that dinosaurs undoubtedly did not become extinct 65 million years ago. Furthermore, evidence that provides a narrative of dinosaurs coexistence with man is even more effortless to provide for our viewers. My personal conclusion to label evolution, whence referring to species mutating into new species during an analysis reaching into the tens-of-millions of years time-frame upon the earth to be no more than a scam; has comme il fault.
For additional and stunning proof, make an inquiry into the Rothschild article at the bottom of the page.

Dinosaurs Have Always Been Known As Dragons
History before 1842 clearly states that dragons existed.
One culture which mocks Western scientists proclaiming these bones are prehistoric dinosaur bones is China. Many scientists in China presently label these fossilized bones are dragon bones. Chang Qu, a Chinese historian from the 4th century B.C., labeled such a fossil in what is now Sichuan Province. China also has the largest recorded history of dragons. Our scientists want us to believe that the recorded history throughout China is simply fantasy. But did you know the number one place for our scientists to find so-called dinosaur bones is in China. That is because more Dragons lived in China and India than anywhere else.

The Chinese believe that dragon bones have a medical healing use, and actually consume dragon bone powders. Of 'course Western scientists state dinosaur bones are prehistorical. Henceforth, they can't be used as medicine. This is truly an actual conflict going on between our two cultures.
The first century Greek historian Strabo, who traveled and researched extensively throughout the Mediterranean and Near East, wrote a treatise on geography. He explained that in India "there are reptiles two cubits long with membranous wings like bats, and that they too fly by night, discharging drops of urine, or also of sweat, which putrefy the skin of anyone who is not on his guard;" (Strabo, Geography: Book XV: "On India," Chap. 1, No. 37, AD 17, pp. 97-98.) Strabos account may have been based in part on the earlier work of Megasthenes (ca 350 – 290 BC) who traveled to India and states that there are "snakes (ophies) with wings, and that their visitations occur not during the daytime but by night, and that they emit urine which at once produces a festering wound on any body on which it may happen to drop." (Aelianus, Greek Natural History:On Animals, 3rd century AD, 16.41.)
Marco Polo wrote of his travels to the province of Karajan and reported on huge serpents, which at the fore part have two short legs, each with three claws. "The jaws are wide enough to swallow a man, the teeth are large and sharp, and their whole appearance is so formidable that neither man, nor any kind of animal can approach them without terror." (Polo, Marco, The Travels of Marco Polo, 1961, pp. 158-159.)
Another early account of a dragon comes from the remarkable book Chronicles of Johannis de Trokelowe and Henrici de Blaneforde, held in the British Museum. This book describes an encounter with a dragon in the eastern part of England (Suffolk County) in 1405. A loose translation of the Latin is: "Close to the town of Bures, near Sudbury, there has lately appeared, to the great hurt of the countryside, a dragon, vast in body, with a crested head, teeth like a saw, and a tail extending to an enormous length. Having slaughtered the shepherd of the flock, it devoured many sheep….
The Anglo Saxon Chronicle gives a dire entry for the year 793: "(In those days it was common to take glowing, flying dragon activity as an omen of evil to come.) This year came dreadful fore-warnings over the land of the Northumbrians, terrifying the people most woefully: these were immense sheets of light rushing through the air, and whirlwinds, and fiery, dragons flying across the firmament." Reliable witness reports of "flying dragons" (pterosaur-like creatures) in Europe are recorded around 1649. (Thorpe, B. Ed., The Anglo Saxon Chronicle, 1861, p.48.)
The Welsh have numerous historical accounts of flying serpents. "The woods around Penllyn Castle, Glamorgan, had the reputation of being frequented by winged serpents, and these were the terror of old and young alike. An aged inhabitant of Penllyn, who died a few years ago, said that in his boyhood the winged serpents were described as very beautiful. They were coiled when in repose, and "looked as if they were covered with jewels of all sorts. Some of them had crests sparkling with all the colours of the rainbow." When disturbed they glided swiftly, "sparkling all over," to their hiding places. When angry, they "flew over people's heads, with outspread wings, bright, and sometimes with eyes too, like the feathers in a peacock's tail". He said it was "no old story invented to frighten children", but a real fact. His father and uncle had killed some of them, for they were as bad as foxes for poultry. The old man attributed the extinction of the winged serpents to the fact that they were "terrors in the farmyards and coverts." (Trevelyan, Marie, 1909, Folk-Lore and Folk Stories of Wales, p. 168-169.)
The prolific 17th century writer Athanasius Kircher's recorded how the noble man, Christopher Schorerum, prefect of the entire territory, "wrote a true history summarizing there all, for by that way, he was able to confirm the truth of the things experienced, and indeed the things truly seen by the eye, written in his own words: 'On a warm night in 1619, while contemplating the serenity of the heavens, I saw a shining dragon of great size in front of Mt. Pilatus, coming from the opposite side of the lake [or 'hollow'], a cave that is named Flue [Hogarth-near Lucerne] moving rapidly in an agitated way, seen flying across; It was of a large Mount Pilatus Dragon by Kirchersize, with a long tail, a long neck, a reptile's head, and ferocious gaping jaws. As it flew it was like iron struck in a forge when pressed together that scatters sparks. At first I thought it was a meteor from what I saw. But after I diligently observed it alone, I understood it was indeed a dragon from the motion of the limbs of the entire body.' From the writings of a respected clergyman, in fact a dragon truely exists in nature it is amply established." (Kircher, Athanasius, Mundus Subterraneus, 1664, tr. by Hogarth, "Dragons," 1979, pp. 179-180.) Such bioluminescent nocturnal flying creatures are known in some regions still today. Might they not be the basis for the "fiery dragon" lore from ancient civilizations around the world?
John Harris
was a scientific man that edited the first encyclopedia. He gives a singularly account of the capture of a dragon: "We have, in an ancient author, a very large and circumstantial account of the taking of a dragon on the frontiers of Ethiopia, which was one and twenty feet in length, and was carried to Ptolemy Philadelphus, who very bountifully rewarded such as ran the hazard of procuring him this beast." (Harris, John, Collection of Voyages, vol. i, London, 1764, p. 474.)
St. Ambrose
gives of dragons "seen in the neighbourhood of the Ganges nearly seventy cubits in length." (Ambrose, De Moribus Brachmanorum, 1668.) It was one of this size that Alexander and his army saw in a cave. "Its terrible hissing made a strong impression on the Macedonians, who, with all their courage, could not help being frighted at so horrid a spectacle." (Aelian, De Animal, lib. XV, cap. 21.)
The 16th century Italian explorer Pigafetta,
in a report of the kingdom of Congo, described the province of Bemba, which he defines as "on the sea coast from the river Ambrize, until the river Coanza towards the south," and says of serpents, "There are also certain other creatures which, being as big as rams, have wings like dragons, with long tails, and long chaps, and divers rows of teeth, and feed upon raw flesh. Their colour is blue and green, their skin painted like scales, and they have two feet but no more. The Pagan negroes used to worship them as gods, and to this day you may see divers of them that are kept for a marvel. And because they are very rare, the chief lords there curiously preserve them, and suffer the people to worship them, which tendeth greatly to their profits by reason of the gifts and oblations which the people offer unto them." (Pigafetta, Filippo, The Harleian Collections of Travels, vol. ii, 1745, p. 457.)
Pliny
In his book Natural History written in approximately 78 A.D., Pliny the Elder wrote that "it is India which produces the largest [elephants] as well as the dragon…and [the dragon] is itself of such enormous size as to envelop the elephants with its folds."
Flavius Philostratus

"The whole of India is girt with dragons of enormous size; for not only the marshes are full of them, but the mountains as well, and there is not a single ridge without one. Now the marsh kind are sluggish in their habits and are thirty cubits long, and they have no crest standing up on their heads."
Author Charles Gould
"The dragon is nothing more than a serpent of enormous size; and they formerly distinguished three sorts of them in the Indies. Viz. such as were in the mountains, such as were bred in the caves or in the flat country, and such as were found in fens and marshes. The first is the largest of all, and are covered with scales as resplendent as polished gold. These have a kind of beard hanging from their lower jaw, their eyebrows large, and very exactly arched; their aspect the most frightful that can be imagined, and their cry loud and shrill… their crests of a bright yellow, and a protuberance on their heads of the colour of a burning coal. Those of the flat country differ from the former in nothing but in having their scales of a silver colour, and in their frequenting rivers, to which the former never come. Those that live in marshes and fens are of a dark colour, approaching to a black, move slowly, have no crest, or any rising upon their heads." (Gould, Charles, Mythical Monsters, W.H. Allen & Co., London, 1886, p. 140.)
The seventeenth century Bible scholar Samuel Bochart
"If on your travels you encounter the serpent with wings who circles and hurls himself at you, the flying snake, hide yourself because of its reputation. Lie down when the snake appears and guard yourself in alarm for that snake's manner is to go away calm, considering it a victory… There are winged and flying serpents that can be found who are venomous, who snort, and are savage and kill with pain worse than fire…" (Bochart, Samuel, Hierozoicon: sive De animalibus S. Scripturae, Vol. 2, 1794.)
On April 26, 1890 The Tombstone Epitaph (a local Arizona newspaper)
reported that two cowboys had discovered and shot down a creature – described as a "winged dragon" – which resembled a pterodactyl, only MUCH larger. The cowboys said its wingspan was 160 feet, and that its body was more than four feet wide and 92 feet long. The cowboys supposedly cut off the end of the wing to prove the existence of the creature. The paper's description of the animal fits the Quetzelcoatlus, whose fossils were found in Texas. (Gish, Dinosaurs by Design, 1992, p. 16.) Could this be Thunderbird or Wakinyan, the jagged-winged, fierce-toothed flying creature of Sioux American Indian legend? This Thunderbird supposedly lived in a cave on a mountaintop and feasted on seafood. Larger than the eagle (Wanbli) or hawk (Cetan), the Wakinyan was named because of its association with thunder and lightning–supposedly being struck by lightning and seen to fall to the ground during a storm. (Geis, Darlene, Dinosaurs & Other Prehistoric Animals, 1959, p. 9.) It was further distinguished by its piercing cry and thunderous beating wings (Lame Deer's 1969 interview).
Evolutionary Zoologist Desmond Morris
"In the world of fantastic animals, the dragon is unique. No other imaginary creature has appeared in such a rich variety of forms. It is as though there was once a whole family of different dragon species that really existed, before they mysteriously became extinct. Indeed, as recently as the seventeenth century, scholars wrote of dragons as though they were scientific fact, their anatomy and natural history being recorded in painstaking detail. The naturalist Edward Topsell, for instance, writing in 1608, considered them to be reptilian and closely related to serpents: 'There are divers sorts of Dragons, distinguished partlie by their Countries, partlie by their quantitie and magnitude, and partlie by the different forme of their externall partes.' Unlike Shakespeare, who spoke of 'the dragon more feared than seen,' Topsell was convinced that they had been observed by many people: 'Neither have we in Europe only heard of Dragons and never seen them, but also in our own country there have (by the testimony of sundry writers) divers been discovered and killed.'" (from the forward to Dr. Karl Shuker's Dragons: A Natural History, 1995, p.8.)
Evolutionist Adrienne Mayor
spent considerable time researching the possibility that Native Americans dug up dinosaur fossils. But some of the reports she received make a lot more sense if these early Americans interacted with actual dinosaurs, not yet extinct. There is no evidence for sophisticated Ancient Paleontologists. An old Assiniboine story tells of a war party that "traveled a long distance to unfamiliar lands and [saw] some large lizards. The warriors held a council and discussed what they knew about those strange creatures. They decided that those big lizards were bad medicine and should be left alone. However, one warrior who wanted more war honors said that he was not afraid of those animals and would kill one. He took his lance [a very old weapon used before horses] and charged one of the large lizard type animals and tried to kill it. But he had trouble sticking his lance in the creature's hide and during the battle he himself was killed and eaten." (Mayor, Fossil Legends of the First Americans, 2005, p. 294.) This story conjures up credible visions of the scaly hide of a great reptile, something Native Americans would not know from mere skeletons. It was once thought that Woolly Mammoths had flourished in North America prior to the arrival of humans. But the discovery of sites where many mammoths were killed and butchered has established the co-existence of men and mammoths. Perhaps similar evidence involving dinosaurs will be forthcoming.
Astronomer Carl Sagan
"The pervasiveness of dragon myths in the folk legends of many cultures is probably no accident" (Sagan, Carl, The Dragons of Eden, New York: Random House, 1977, p. 149). Indeed he felt compelled to address the similarity to the great reptiles of the Jurassic era and "explain them away." How could Sagan do this? Peter Dickinson stated, "Carl Sagan tried to account for the spread and consistency of dragon legends by saying that they are fossil memories of the time of the dinosaurs, come down to us through a general mammalian memory inherited from the early mammals, our ancestors, who had to compete with the great predatory lizards." (Dickinson, Peter, The Flight of Dragons, New York: Harper and Row, 1979, p. 127). Thus Carl Sagan believed that we evolved not merely our physical bodies, but also memories "uploaded" from our mammalian ancestors!
Forbidden History - Dinosaurs and the Bible
Apolo geet
6 years ago
The truth about Dinosaurs & Dragons
Our Only HopePublished on Jun 22, 2018
Dinosaur = Dragon = Coexistence w/Man?
Bible:
"Look now at the behemoth, which I made along with you; he eats grass like an ox. See now, his strength is in his hips, and his power is in his stomach muscles. He moves his tail like a cedar; the sinews of his thighs are tightly knit. His bones are like beams of bronze, his ribs like bars of iron." (Job 40:15-18)
* The sheer number of names given to dragons, or dinosaurs, worldwide builds a strong argument that dragon legends reflect encounters with real creatures. Most languages, either in written or spoken form, have their own unique terms. The word "dragon" here doesn't necessarily refer to popular images of a bulky, fire-breathing reptile that somehow flies with tiny wings. Rather, it can mean one of the many kinds of post-Flood dinosaurs, or even flying reptiles.
Dragon history is nearly universal throughout the world's ancient cultures. Where did this global concept originate? Why is it so universal among cultures who were separated by continents? How did societies throughout the world describe, record, draw, etch, sew, and carve these creatures with such uniformity, if they had not been eyewitnesses of them?
CULTURE NAME FOR DRAGON
China - Loong
Japan - Ryu
Philippines - Bakunawa
Siberia - Yilbega
French - dragon,dragun,dargon
Turkey - Ejderha
Greece - Drakon
Portugal - Coca
Romaina - Balamr
Slavic - Zmeg, Drak, Smok
Hungary - Sarkany
Britain/England - Wyvern, Dragon
Sardinia - Scultone
Wales - Y ddraig gochKorea - Yong, ImoggiVietnam - Rong, LongIndia - NeakPersia - AzhdahaGermany - LindwormTartar - Zilant
"Mass reorganization. of all this is not in the interest of the dark Cabal, so they keep coercing humanity with well planned manipulations and blindfolding even our best human flavor; imagination. Sad, but we seem to live in the biggest global lie in the human history." - Albert Einstein
The word "dragon" comes from the Greek "dracon," which means "serpent" or "water-snake" — and, in fact, the earliest mythological dragons resemble snakes more than they do dinosaurs or pterosaurs (flying reptiles).
There aren't many (let's be honest, *any*) paleontologists who admit they believe that the dragon legend originated ancient human beings who glimpsed a living, breathing dinosaur and passed the story down through countless generations. Nonetheless, that hasn't prevented scientists from imploring the word dragon for recent dinosaur names like Dracorex and Dracopelta and (further east) Dilong and Guanlong, which incorporate the "long" root corresponding to the Chinese word for "dragon."
📝 S.P.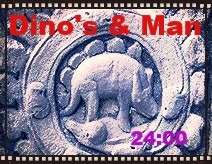 Dinosaur Soft Tissue Found
Right Click While Playing to Download

Are you aware that footprints of dinosaurs and man have been found together? There have been a number of fossil human footprints found right with dinosaur tracks here in the United States.
The picture to the right is the most recent find.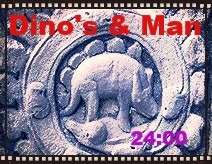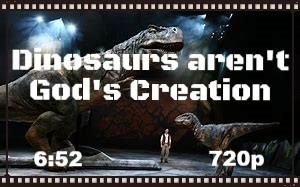 To view more ancient rock carvings of dinosaurs, seemingly, proven man and dino's (dragons) lived together; visit
verity.webstarts.com/hiddenhistory
Titled: Dinosaurs Aren't God's Creation
Want Scientific Evidence proving the Dinosaurs True Existence?

For more Ancient Rock-Carving photos of dinosaurs visit Verity
With a magnanimous level of interest placed on dinosaurs within our modern culture and further emphasis added to dinosaurs via paleontologists, one would think a more clever narrative concerning their origin and extinction would be available. Likewise, any investigation into recent literature referring to this subject further indicates the incontrovertible truth that evolutionists retain an inability to inaugurate consistent theories never-mind facts about either topic; meaning origin and/or extinction.

📝 S.P.
This rock-carving photograph (left) depicts a Stegosaurus and is located on a wall at Angkor Wat, Cambodia. Surely, the artist(s) responsible for this fairly accurate portrayal must've bore-witness to a live stegosaurus; no?

To view four (4) additional accurate ancient (at least pre-1841) rock-carvings, visit the Ancient Gods & Giants Library at . The photographs appear on a grid and are labelled 4C➖4F.

HIDDEN HISTORY of the Dinosaurs 24:09

The fathers of modern paleontology used the terms "dinosaur" and "dragon" interchangeably for quite some time.
In his 1828 American Dictionary of the English Language Noah Webster sought out the derivation of the word dragon among the ancient Medieval roots. He concluded, "Hence I infer that the word originally signified a shooting meteor in the atmosphere, a fiery meteor, and hence a fiery or flying serpent, from a root which signified to shoot or draw out." His first definition of the word dragon was "A kind of winged serpent, much celebrated in the romance of the middle ages." (Webster, Daniel, An American Dictionary of the English Language, S. Converse, New York, 1828, p. 67.)
📝 S.P.
pterosaurs = flying reptiles, quite possibly Dragons!

*Page Last Updated 12/31/20
T-Rex Triceratops Stegosaurus
Click on the photos above to fully view the ancient carvings of these 'dinosaurs' proving man had seen them in the past.
While people are most familiar with carbon dating, carbon dating is rarely applicable to fossils. Carbon-14, the radioactive isotope of carbon used in carbon dating has a half-life of 5,730 years, so it decays too fast. It can only be used to date fossils younger than about 75,000 years.
www.fossilera.com › Articles › About Fossils
The entire relentless rendering of the "65 Million Years Ago Theory" is to eliminate belief and devotion to God and the Bible from people's lives!
That's It! That's What It's All About!
That's What It's Always Been All About!
Shaun Prario

Dragon = Dinosaur - Co-existence w/Man?
Dragon = Dinosaur - Co-existence w/Man?